Pre-1920 Heddon Lure Site Index
Antique Lure Photos, and Advanced Collector Articles on Heddon Lures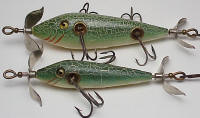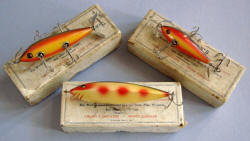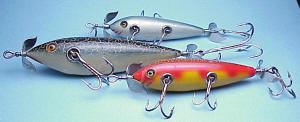 Topics discussed or shown: Heddon lures and boxes. Research on Heddon Dowagiac fishing lures and boxes. Heddon wood boxes with underwater minnows. Articles on collecting cup-rig lures, High forehead lures and Heddon white boxes, Photos and information on the Slope nose picture box, down leaping bass box, Heddon Pine Tree box, blue border box, white border box, Artistic box, multiple minnow box, Heddon 'It Swims' box, Killer box, grading lures, lure collecting
Articles on Early Heddon Lures and Boxes
| | |
| --- | --- |
| Heddon Dowagiac | 1913 Heddon Catalog |
Lure collecting addiction: a serious problem, an article about buying too many lures

Pre-1920 Heddon lure identification, a point by point method to identify a lure

Heddon lure identification by type of hardware. Photos and text explanations

Heddon 100 and 150 statistics to help match correct lure and box

Heddon 250 notes and the color Welbourne Special

1905 to 1908 comparative nose anatomy to identify Heddon lures

Lure construction details for identification

Heddon wood boxes: identification and dating. Photos of wood boxes

Heddon 150 color chart from the early catalogs

Heddon 1908 color chart contract lures from Norvell-Shapleigh Hardware Co.

Colors by rarity for selected early Heddon lures, two pages

Old yellow and old rainbow Heddon colors

Early and later sienna colors of Heddon lures

Color chart for identification of Heddon box numbers

1904-1912 model 100 body shapes and boxes. Photos of minor variations

1904-5 body style with cut off nose and tail

1905 model 100 body styles, colors, and shapes. More photos

1906 vs 1908 100 and 150 body and cups

1906 vs 1908 175 lure, box, and paper

Manufacture date sequences for early Heddon lures

Four hook Heddon Slopenose Expert Dowagiac with gold wash cups

Heddon 'Florida Special' lure and Artistic box
Heddon Lure Boxes:

Lure box identification: 1904-1930. Photos of early and rare Heddon boxes

Lure box identification: examples of early pre-1920 boxes, box side data

Lure Hardware & Lure Box Identification 1904 to 1930. Photos of lure details

Wood lure boxes by Heddon, identification and discussion

NEW-DOWAGIAC lure wood box, identification and markings

Heddon white lure box vs Pine Tree lure box 100 body shape comparison

Lure box early brochure paper and which Heddon box is correct

See AntiqueLures website for additional information on Heddon lures and other companies, lures, and boxes, especially early miscellaneous, and further articles.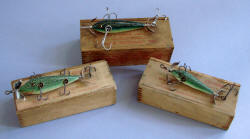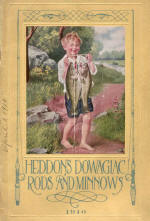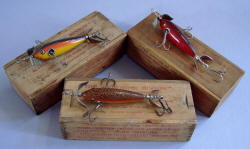 1910 Heddon Catalog
Heddon Details & Photos
Heddon Page One

Heddon Page Two

150J frogscale

3000 green crackleback Spindiver

300 green crackle back

Underwater Dowagiac Minnow

154 early solid red

104 early solid red

707 sienna fancy back

Heddon Page Three

1904 100, three belly wts. in wood box

1905 150, two belly wts. in wood box

1907 100, two belly wt.

1908 100, one belly wt. in wood box

1908 150, one belly wt. in wood box

1909 100, one belly wt. in white box

1913 100, one belly wt. in Bass box

Heddon Page Four

'00' yellow, green, red, in PineTree box

'0' red and black in Bass box

3000D greenscale Spindiver in Bass box

107 sienna, L-rig, in Bass box

Heddon Page Five

109A, bar perch, L-rig, in Bass box

102, red eye blush fat body, cup rig, in Bass box

151, rainbow, cup rig, in Bass box

101, rain bow, cup rig

700, green crackleback, L-rig, in Bass box

Dummy Double in Bass box

300 perch, flat plate, six hook, in Bass box

Heddon Page Six

109, silver flitter, blunt nose, in wood box

159, silver flitter, blunt nose, in wood box

158, gold flitter, fat body

108, gold flitter, fat body

108, gold flitter, fat body, in white box

Heddon Page Seven

Bucktail Surface Minnow, in intro white box

157 fat body cup rig in white box

300 transitional high forehead in old rainbow

Heddon Page Eight

150 yellow, fat body, L-rig, in Bass box

150 green crackle back, fat body, L-rig

152 red eye, fat body, L-rig, in Bass box

109B frog, L-rig, in Bass box

3009B frog, L-rig, Spindiver in Bass box

Heddon Page Nine

Crag Wiggler, frogscale, in Bass box

Zaragossa, green back with flitter

Torpedo, green scale, side hooked

Heddon Page Ten

159A yellow perch in wood box

107 sienna fancy back in wood box

152 slate back in wood box

151 old rainbow in wood box

176 old rainbow in tall wood box

300 green crackleback in wood box

105 old yellow in wood box
Collection Set Two of Two
Page: 1 | 2 | 3 | 4 | 5 | 6 | 7 | 8 | 9 | 10