| | |
| --- | --- |
| The pre-1920 Heddon lure and box | Heddon 250 notes |
Knowledge for Advanced Collectors of Heddon
Heddon 250 notes
According to Bill Roberts (The Heddon Legacy, page 114), the Heddon 250 came in two versions: one had two belly hooks with two belly weights, one tail hook, on a 150 body; and the other had one belly hook, one tail hook, on a 150 body. All this information was collected from viewers on Joe's web site and may or may not be correct. It's a work in progress.

The 250 was uncataloged by Heddon but did show up in brochures by contract sellers like Shapleigh Hardware Co. who sold Heddon "trade" lures. An example of a very rare Shapleigh flyer is shown below. A better example will be posted later.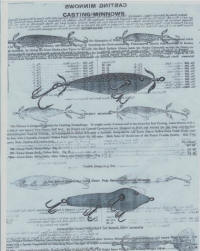 Shapleigh flyer
Box below courtesy of Bob Drozd: The number 252 Special on the box below is believed to be for a red-white-red 250 lure. The approximate era color may be determined by the age of the box information based on "Stamped on the metal" which is the later designation and during that era, -2 was for the color red-white-red based on feedback from board members and the article by Ray Carver. See the Carver color chart for Heddon early and later versions of 150's. If it was the earlier box "Marked on the spinners", it could be for solid white. Nothing is for certain, because everyone who knows for sure is most likely dead!

Click on any photo to enlarge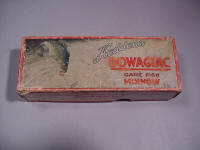 252 Special box
Courtesy of Charles Sanders: Below is an example of a 259 '250 lure' in silver flitter. However, the box is marked 250, which would be for the color 'Welbourne Special' (orange back with yellow belly) according to the flyer from Shapleigh Hardware Co. which shows the uncataloged 250 and the Heddon Moonlight. I'll post a better photo of that flyer as soon as I get a copy from Wayne Mullins, but the scan of the flyer I got from Wayne is shown above.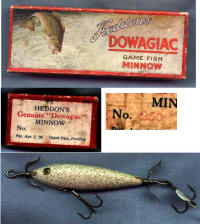 250 box, 259 lure
Gabby Talkington reports having had a two belly hook 250 in red and white and the box was marked '250'. Go figure.

Vaughan in Memphis, Tenn. reports the following: I sold Ken Webb a wood box marked 250 Wilbourne Special, papers and all, unfished. only 2 known I think. It had a 150 in Wilbourne Special in the box. Here's the funny thing: in a wood box, but with marked props? Doesn't add up. It seemed odd but we know for a fact or almost certain that it came this way. The bellyweight paint was off the lure but in the box. the lure came from an estate in Memphis and this lure surfaced after being put away for more that 90 years as did the whole collection from the Hunt-Phelan home and museum. What about this. Maybe a 250 box not marked Wilbourne Special is for the 250 lure. Just a thought.

From Wayne Mullins regarding the Schapleigh flyer: According to the paper work that I have, it is my opinion that a cup rig 150 in Wilbourne Special COLOR would be in a box marked "250". This is only used to indicate the color, not to be misunderstood to hold an uncataloged 250 bait.

These are just my notes, nothing is final....I don't know!