1908 Shakespeare Display Case
This Shakespeare display was produced by Shakespeare in 1908 to show their product line that year. Photos of the display were used in print ads put out by the company. All the lures for 1908 are shown which include both the 'Shakespeare' and 'Rhodes' minnows as well as the Revolution, Evolution, and Worden Bucktail minnows. All Shakespeare's have the 'B' type props and gem-clip hardware. All Rhodes have the Rhodes props and gem-clip hardware.

At the bottom of the page, there is a photo of the original display as it existed in the 1908 flyer from Shakespeare. Only three of these displays are believed to have been made by the company and this may be the only one now in existence. The lures are held in place on the board by a soft flat staple over each hook shank. The gray background is the discolored velvet which was originally dark blue. The lures are not stuck to the velvet material. At some point in its history, the center photo was tacked down with brass tacks. The eye on the frog has been damaged and two of the lures have slight marks on their backs which may have been made when someone removed the glass in the past. If anyone has a copy of the photo which could be used to replace the tacked one, please contact me. I would also like to replace the Rhodes frog with an excellent condition example.
Click here to see the original case as shown in a January, 1908 Shakespeare flyer
Click on any photo to enlarge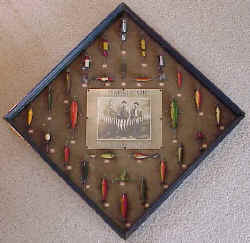 Dimensions: 31.5 by 31.5 inches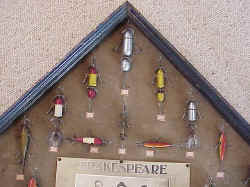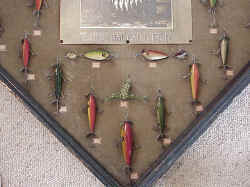 Lure number and color nomenclature shown above each lure is from the sticker beside each lure
Musky size Revolution 6SAR (aluminum) | Rhodes 33 minnow SYA (solid yellow)
Evolution 3GAS (aluminum) | Whirlwind 6 SWW ( solid white)
Shakespeare Musky size 64 RY (red yellow) | Shakespeare 44 YP (yellow perch)
Shakespeare 33 RY (red yellow) | Shakespeare 44 GY (green yellow)
Rhodes 43 RWN (red back striped, white belly) | Shakespeare 53 RY (red yellow)
Slim Jim 33 GXJ (green back, white belly, striped) | Rhodes 44 GWN (green back, white belly, striped)
Punkinseed 30 GW (green white) | Punkinseed 30 RA (red aluminum)
Shakespeare 43 RY (red yellow) | Rhodes mechanical frog 3 GWF
Shakespeare 31 GW (green white) | Whirlwind 6SRW (solid red)
Shakespeare Musky 64 GW (green white) | Rhodes 33 SWA (solid white)
Shakespeare 42 RW (red white) | Slim Jim 33 RXJ (red back, striped, white)
Slim Jim 33 BXJ (brown back striped, white) | Rhodes 33 RWF (red white)
Shakespeare Worden 4 RWB (red white bucktail) | Shakespeare Revolution 4 RYR (red yellow revolution)
Shakespeare Baby Revolution 3 SYR (spotted yellow revolution) | Shakespeare Worden SAB (aluminum bucktail)
Click here to see the original case as shown in a January, 1908 Shakespeare flyer